Arakawa River Clean Up (Minami Sunamachi)
March 29 @ 1:00 pm

-

5:00 pm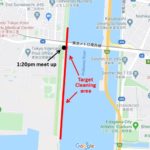 In consideration of recent Corona Virus measures for distancing and the Tokyo's governor's request to for people to not go out this weekend, our Mar. 29 (Sun.) event at Minami Sunamachi is being adjusted as follows:
1. Let's limit participation only to people who can come by bicycle or car (not using public transportation)
2. The meeting time will be 1:20 at the waterline next to the Tozai Line train bridge. (So there will be no meet up at the station, but rather people will go to the river directly.)
3. The fewer number of participants will avoid close contact, no shaking hands, talking from a bit of distance, etc.
4. Participants can come any time on Saturday or Sunday and collect trash along the walkway on the map. Just use your own trash bags for burnable trash and dump everything else in a pile next to the bag(s), which can be left on the ridge just above the walkway. I will collect and sort these later. David Howenstein will be out there on Saturday and I'll be there on Sunday. So, this activity can be done alone or in a small group, which will meetup Sunday from 1:20pm riverside. Then, if participants avoid public transportation, I think we can fall within recent guidelines for distancing.
5. There will of course be no nijikai dinner afterwards.
If there are any questions please call my cell phone 090-1847-5075, or e-mail me at yaesukita[at]gmail[dot].com